About custom clubfitters
There was a time not so long ago when custom clubfitting was a relatively unknown profession, mainly associated with golf club manufacturers' demo days and the equipment company Tour Vans that are present at every professional tournament.  But those days are gone, and today custom club fitters are playing an increasingly important role at the cutting edge of the $7 billion golf equipment industry. While it's hard to know exactly how much the custom club fitting sector of the industry is worth, it's reasonable to assume it's in the hundreds of millions of dollars and growing rapidly. The increased affordability of advanced technologies like golf simulators, launch monitors, motion sensors, and high-speed video cameras means that a service that was once, by and large, the preserve of top golf professionals is now becoming readily available to the average club golfer through their local golf fitter. 
What does a custom clubfitter do?
Custom clubfitters are highly trained professionals who are skilled in matching golf equipment – everything from drivers, fairway woods, hybrid clubs, iron sets, wedges, putters, and even the golf balls themselves – to a player's ideal individual specifications.
Because all golfers are different, both in terms of build and golf swing characteristics, this is not an easy task and involves taking into account a whole host of information including: 
Static measurements of the player's physique;

Dynamic info about their swing, and;

A multitude of factors related to the golf club itself, including club head profile, loft & lie angle of the club, shaft weight, flex point, swing weight, grip type, and thickness.
Why is demand for custom club fitting increasing?
Today, golfers are no longer satisfied with "one size fits all" and at least some level of customization is expected when they commit to buying new golf clubs. While it might have been tolerated at one time, it's not acceptable anymore to pay hundreds or even thousands of dollars for a new driver, hybrid club, or set of golf irons and for them not to be perfectly matched to the player's swing. The technology and expertise are there now to achieve this, and that is where the custom clubfitter comes in.
What technologies are used for custom fitting?
The use of advanced technology is becoming commonplace now in custom club fitting. This includes high-speed video swing analysis and data capture systems such as Trackman and FlightScope, as well as Foresight, to measure the player's club head path, ball flight, velocity, and acceleration. Coupled with the possibility of their having many thousands of combinations of club heads, shafts, and grips for demo club purposes, this ensures that golfers are getting the best and most optimized clubs for their unique swing characteristics and, therefore, value for money. Putter fitting technology has also become very advanced thanks to the use of SAM PuttLab and other similar technologies such as Quintic. 
Despite the huge advances in golf fitting technology, some golfers still wonder about the cost of golf club fitting and whether it's worth the money. Others ask whether beginners should get a club fitting, or is getting fitted for a new set of golf clubs (or a driver or putter) something that only a high-level amateur or golf professional would benefit from. Indeed, some might even be a little embarrassed to subject their swings to the scrutiny of a golf fitting professional.

In reality, having a professional golf fitting should be regarded as insurance against making expensive mistakes. Fittings are reasonably priced compared with the prices of the top brands of golf clubs these days. For example, a new driver, hybrid club, or putter could cost between $400-$900, and a set of irons could cost $1000-$1500 if the clubs are from the top golf club manufacturers. With potential costs like this being involved, it's essential for golfers to have a good level of assurance that the club (or clubs) they buy will be working for them rather than against them.
In addition, many golf fitters will offer a reduction on the fitting fees if clubs are purchased after the fitting, and any reputable fitter will give a satisfaction guarantee, so the cost of this "insurance policy" becomes even lower compared with the cost of buying golf clubs off the rack, that subsequently turn out not to be suitable, perhaps because the player needed steel rather than graphite shafts, or the shafts were the wrong flex, or the club head profile didn't suit the player.
A further factor to take into account when considering whether to be custom fitted or not is the difference between feeling frustrated due to hitting bad shots and the positive feelings that come from hitting shots that come off the middle of the club face. Consistently hitting good shots off the sweet spot will encourage players to play and practice more, thereby amplifying the effects of the fitting if it is properly done. With the level of data that fitters have available at their fingertips these days, the chances of success are considerably greater than they used to be in years gone by.
Do fitters offer golf club building and golf club repair?
Many custom golf club fitters are also qualified as custom club builders so having done a fitting they will go on and build the golf clubs themselves, customized to the player's optimal golf club specifications. In other cases, an order is sent to the golf club manufacturer, who will build a set of clubs precisely matched to those specifications. Fitters may also do routine club repairs and alterations such as regripping, reshafting, shaft alignment, and loft & lie adjustments. Some may even carry out vintage golf club restoration and golf club refurbishment as well.
Who are the key companies in the golf club fitting industry?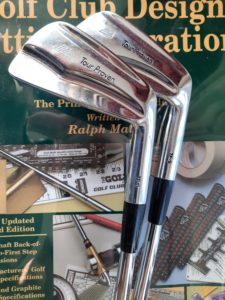 Ralph Maltby's Golfworks has been a leader in the field of custom clubs, clubfitting, and golf club building for more than three decades and has taught many professional clubfitters and custom club makers who are now working for major companies or as independent operators. His book "Golf Club Design, Fitting, Alteration & Repair" is an acknowledged reference for the club fitting industry and will be found in any good club fitting center, club professional's store, and golf club repair shop. Golfworks is also one of the principal suppliers of custom golf components, videos, instruction books, and manuals to the many thousands of hobby club fitting enthusiasts.
Other long-established and respected names in the custom clubs and golf club components industry include Hireko, Tom Wishon's Wishon Golf, and Thomas Golf. Although not as well known by the general golf public as the equipment manufacturers who sponsor the top professionals, some of these companies have been responsible for innovations that later were embraced by mainstream club manufacturers. 

Having once been something of a niche business sector, the influx of new science and technology companies, franchises, and investment capital into the golf club fitting industry in recent years has transformed it into one that is evolving very rapidly and becoming highly data-driven. These technologies have high visibility on TV golf coverage all across the world, which breeds familiarity, and creates a willingness among golfers to try them out. The net effect is that the data produced by these systems are increasingly being used by golf instructors and coaches, club professionals, and fitters to accelerate the development of players, from beginners and casual club players all the way up to seasoned professionals playing the world's major golf tours. 
How can I find a fitter near me?
This website is a hand-selected directory organized by state and country that is designed to make it easier for you to find a clubfitter near you. All the listed sites were visited and reviewed, and the services provided were noted, including the major golf club brands being offered, fitting charges, guarantees, and the fitters' credentials (e.g. number of years of experience, membership of professional associations like the AGCS or PCS, golf industry-recognized certificates and awards, training by club manufacturers).
The information on this website is provided as a guide and is not an endorsement of any particular golf club fitter. However, I hope it helps you find an accomplished fitter in your local area and that you'll benefit from learning about – and experiencing – the many new technologies that clubfitters have to offer to make you a better player. The next page answers common questions people have about golf club fitting if you're still not sure about the process.  
To conclude, properly-fitted custom golf clubs can certainly improve your golf performance so if you've never been through a fitting session before, why not use the drop-down menu on the right to find the nearest clubfitter to you, then give them a call and arrange a fitting today? To paraphrase a famous saying; "You have nothing to lose but your faults."
Updated September 7th, 2023.